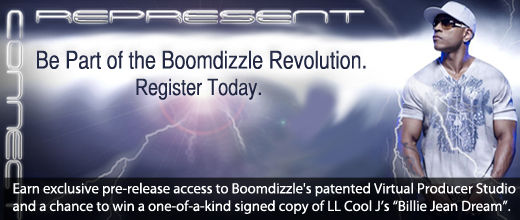 LL COOL J TO BE INTERVIEWED MARCH 13TH / VIRTUAL PRODUCER STUDIO TO BE RELEASED SOON
New York, NY (March 11, 2010) -- Check out LL Cool J's webcast from SxSW and hear how Boomdizzle will revolutionize music. LL Cool J will be interviewed by PepsiCo's Digital Speakeasy on Saturday March 13th, 2010. Tweet your questions to @Pepsico and visit Boomdizzle.com/revolution to watch the webcast.

Boomdizzle.com wants you to join the revolution! The Virtual Producer Studio is soon to be released and it will change music forever. Register today to get pre-release access to the patented technology that will enable anyone to collaborate, record and distribute music. One registered user will win a one-of-a-kind signed copy of LL Cool J's "Billie Jean Dream". Sign up today so you don't miss out on this exclusive opportunity. This is the future of music and we want you to be part of it! Visit Boomdizzle.com/revolution to register.
For Media Inquiries:
email press@boomdizzle.com